Amitie Florian (アミティエ・フローリアン Amitie Furōrian) is originally a Gear introduced in The Gears of Destiny. In the INNOCENT spin-off series, she becomes a high school student residing in Uminari City along her family.
Like the original series, she is commonly nicknamed as Amita (アミタ Amita).
Personality
Edit
By contrast to her sister Kyrie Florian, Amita is somewhat a hot-blooded person, but sometimes her efforts prove futile for her hot-blooded personality.
Biography
Edit
Amita is the elder daughter of the Florian family, studying grade 2 at Eltria Girls High School, Uminari City. She is one year older than her sister, Kyrie.
In addition to being a Brave Duel player, Amita also plays the role of Brave Duel commenter along with her younger sister at Granz Lab.
Brave Duel Powers
Edit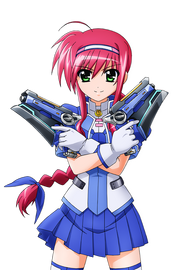 Amita wields the blue-framed Variant Zapper as her Device, and is an all-rounder with the ability to fight at different ranges. Particularly she is good at gun-shooting, and her shooting skill is of top class among all Duelists.[1]
Amita's primary avatar is Protect Suit type,[1] and her version is colored in blue.
References
Edit