Levi Russel (レヴィ・ラッセル Revi Rasseru) is originally a Material based off Fate Testarossa in the portable continuity first introduced in The Battle of Aces. In the INNOCENT spin-off series, she becomes an international student from overseas along her Dark Materials +1 team members, originally her magical allies.
In the original series, she is named/titled as Levi the Slasher, which is adopted as her Duel Name in INNOCENT.
Personality
Edit
Levi is very outgoing and often childish, but also prone to going berserk.
Biography
Edit
Levi is an international student studying grade 1 at Private Tenō Middle School,[1] Uminari City. She and her international student fellows including Dearche Kings Claudia, Stern Starks and Yuri Eberwein are childhood friends and they have a strong bonding.
Brave Duel Powers
Edit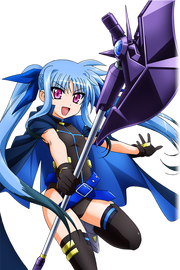 Levi's Device is named Vulnificus, which shares the same model with Bardiche. Her personal card specialises in lightning-based skills.
Levi's primary avatar is Lightning type, Slash Suit (襲撃服 Surasshu Sūtsu) custom.[1]
References
Edit