Lindy Harlaown
Character profile
Gender
Female
Family
Harlaown family
Background
Work
Hobby Shop T&H
Occupation
Shopkeeper
Brave Duel
Style
Midchilda
Equipment
Arc-en-ciel
Energy color
Mint
Duel name
Admiral Lindy (youth image)
Production
Japanese name
リンディ・ハラオウン

(Rindi Haraoun)

First app.
INNOCENT (ch.0)
Lindy Harlaown (リンディ・ハラオウン Rindi Haraoun) is one of the shopkeepers at Hobby Shop T&H along with Precia Testarossa. She was originally introduced in Magical Girl Lyrical Nanoha as an Administrative Bureau Admiral, whose team has tried to arrest Precia.
Personality
Edit
Lindy is a gentle person, usually acting as the stopper of Precia's blind love on her daughters.
Biography
Edit
Lindy is one of the shopkeepers at Hobby Shop T&H. She and Precia are good friends since long time ago, and they are currently living together, as their husbands are on expatriate assignment together.
Brave Duel Powers
Edit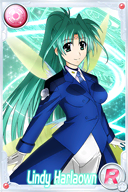 Lindy's Device is yet to be detailed in the series. It may be the fairy wings on her back (comparing her Rank N+ and Rank R cards), similar to Yuri Eberwein's Spirit Flare. Lindy is also capable of using Arc-en-ciel, presumably a non-device equipment like Cinque Nakajima's pirate ship.
Lindy's primary avatar is an unnamed Defense type.[1]
When Lindy was young, she was good at and titled Legendary Admiral (伝説の艦長 Densetsu no Kanchō) in a fleet battle simulation game. Her primary avatar has made use of the converted data from this game. On another hand, her youth image in this game also becomes a secondary avatar in the cards, with the title Admiral Lindy (銀河提督少女リンディ Ginga Teitoku Rindi, lit. Galaxy Admiral Girl Lindy).
References
Edit
↑ MGLN INNOCENT, official website.